This morning I received an email from Angela with Ladybugs N Love www.ladybugsnlove.com
It was an update on Liya, with 2 new pics and answers from her foster family to 10 questions we asked them.
First(of course...duh!) the pics. Are you ready for some adorable cuteness?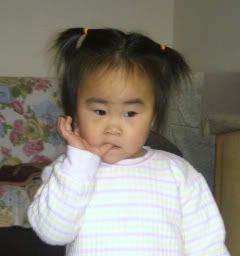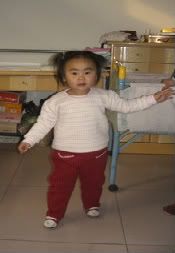 Ok, now for her update:
*If* these measurements are correct, we have a "big" little girl on our hands, lol!
Height-38 inches
Weight-39 pounds
She has 18 teeth:)
We also learned that she loves oranges and vegetables (yay!), is completely potty trained(we will bring a few dipes jic), has ditched the bottle, and loves to play with other children.
She looks very healthy and happy, and we will forever be grateful to her foster family for taking such wonderful care of her:)
Oh, and check out her little shoes. The character on there is from her favorite cartoon, "Pleasant Goat and Big Big Wolf". We have already bought her a few Pleasant Goat things, but now I want to buy more.....Hubby, hide my credit card!!