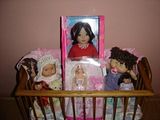 Thought I'd put together some of the girly things we've bought for Liya so far. We are hoping to start on her room this weekend. The drywall still needs to be finished, that's how far we have to go...lol!
We went to pick up a new(to him) bigger bed for RJ. We found a nice full size captain's bed and matching dresser on craigslist. The couple selling the bed are moving and need to sell most of their furniture. Dolly, the wife (who is a sweetheart!), showed me an antique doll cradle and dolls that she was selling. Well...I just had to have them! There were 2 Madame Alexander dolls made in 1975, a Mattel life-like baby from 1984, and one Berenguer baby. I put 3 of the dolls in storage, to be restored later. Nathan has been having fun playing with the Berenguer doll. He now wants a boy Cabbage Patch doll for himself, lol!
So I snapped the above pic of some of the dolls we've bought in the cradle.
Oh, and the blanket behind the dolls is one we received as part of a blanket swap....thanks again to Theresa and Family:)
As some of you know, we are making a 100 good wishes quilt for Liya. Well, when we were bringing the cradle home, Roger had the great idea to make a matching miniature 100 good wishes quilt that Liya can use for her dolls! Now, why didn't I think of that??